Christine Santelli: A moment when her heart 'leapt at her and seized her and tortured her.

To The Lighthouse

By David McGee

DRAGONFLY
Christine Santelli
Rapid Records

Bleak and austere in the manner of Bruce Springsteen's Nebraska; flush with the burnished, poignant, bittersweet persistence of memory fueling Virginia Woolf's To The Lighthouse; and asserting self-reliance in the Marlene Dietrich style ("good for nothing/men are good for nothing") even as the last vestiges of dependency linger (think Carmen McRae's "How Did He Look"), Christine Santelli's solo acoustic stunner Dragonfly is a complex, coming of age work. For all intents and purposes this self-released, bracingly honest missive establishes a clear demarcation point between the blues-based artist fronting a full band, introduced on record in 1993 (24 Hours), and the fully matured singer-songwriter whose voice and acoustic guitar alone give wings to her poetry.

This poetry, the 15 original songs she culled from her "100 Songs in 100 Days" project of summer 2011 (from which one video per month has been appearing regularly on the Contents page of this publication), comes not from out of the blue, but rather is the logical progression of a pattern of steady growth in her writing, playing and singing beginning with 2006's masterful Tales From the Red Room and flowering fully on 2009's Any Better Time. These albums, though rooted in blues, offered intriguing evidence of an artist whose writing was turning increasingly inward and finding its most affecting expression outside the blues--in the country strains of the confessional "She Wasn't Wrong" and her paean to the natural world on "Take a Look" (on Red Room); and on Any Better Time in the Appalachian strains of the haunting loneliness of "Calgary," on which a fingerpicked guitar and crying fiddle hauntingly augment her parched, bluesy vocal; in the delicate beauty of the folk-flavored "Brown-Haired Girl"; and in the clambering, Waits-ish cabaret backdrop of "For You."

With the estimable Dave Gross assisting her in the production of Dragonfly, Ms. Santelli dispenses with all effects and affectations and presents herself naked on disc. It has the feel of memoir, does Dragonfly, and though she always draws on her life experiences as a writer, she does so in the guise of storyteller projecting her life onto another's in pursuit of a larger theme than self-portrait could provide. To pile on the literary allusions, Dragonfly is a musical Our Town, and she's playing the Stage Manager. In this role, in her songs, she reveals much of the modern malaise afflicting personal relationships, especially those of a romantic nature, and in unsparing detail to boot.

It starts off cheerily enough, with a sweet, lilting love song, "Sweet Rita," about a man who cherishes his bride as "his angel from above" and the memory of their betrothal remaining sunny "through our lives." This glow is quickly doused on the next song, the tellingly titled "I'm Done," darker still and a merciless catalogue of a one-sided relationship coming to a complete, non-negotiable halt--"I'm done, I'm done, I'm done"--she cries thrice--"pleasing you/I'm leaving you know to do all the things I wanted to." It doesn't end there, though; she goes on to catalogue "all the things" she's planning, including not asking her old flame's advice "'cause that's something I'd do in my old life."

As despairing as matters get on this album, it's not all bleak, no more than it would be in our town or any other. The ragtimey "Close to You" is a cute, fun vow of affection (you could hear Leon Redbone, with his honking voice, really making hay with this one) and "Dragonfly," halting and subdued, is Santelli at her most seductive, singing a metaphor-rich promise of commitment in a tiny, vulnerable voice, sweet and open and captivating. Less dark but no less vivid than Bruce Springsteen's "My Hometown," Santelli's "My Town" describes a place where "the mayor's drunk and the cops are too" and not much is going on, but "I wouldn't change it for the world," as she proclaims sturdily in a soaring chorus, the song being another example of maturity allowing the narrator to see more virtue than desperation in the burg's sleepy demeanor. Even better, the jaunty "My Grandad" recalls "special times I won't forget" with the man who loved the ponies, his "suds," and his little granddaughter, whom, he assured her, would "have my day in the sun."

At which point Dragonfly takes a 180 turn, aiming its spotlight on those living in a world of hurt. "In Why Did You Run," a love affair that flourishes in an autumn of no money but abundant riches of heart is now only a tainted memory after one partner takes a powder, leaving the other to ask "hey, hey, hey, why did you run?" but, as the song's abrupt ending suggests, receiving no answer. In one of the album's two variances from the guitar-vocal setup, "Find My Way Home" is a powerful gospel-tinged piano-and-vocal heartbreaker chronicling disconnect, in heart and in spirit, with a remote paramour. Somber, low-key with a rich melody and a deeply soulful and subtly searing vocal, "Your Name's Now Up In Lights" sends a message to a departed lover who shunned her support as he followed his own trajectory to something greater than they had together--and yet, she can't quit him, as she reveals in the unsettling final verse, to wit: "I can feel your touch as you wander through the days/And I know you're right there/I can feel you smiling down on me/Guiding me through your prayer."

Among all the 15 tracks, two are unqualified major songs. "Ten Years Ago," briskly fingerpicked and intensely introspective with a whispery vocal, speaks to an old flame with a devastating series of rhetorical questions: "Is she pretty like I once was/Does she laugh at your jokes/Does her hair hang down just right/When you make love are there stars out above at night," all leading to the most shattering query: "Is she me just ten years ago," repeated twice and left to hang there in the quiet between tracks so you can fully absorb the magnitude of betrayal Santelli describes with cool, surgical precision.

Bookended by two unusual kissoffs in "I Don't Want to Get Dressed" and "No Neckties"--the former resigned and fairly upbeat, the latter another piano-and-vocal arrangement but with a whimsical, quizzical bent as she ponders the lack of physical evidence of her beaus presence--"Why Call Me" is a masterpiece of what Dylan called mixed-up confusion. Unfolding at a deliberate pace, Santelli's nuanced phrasing incrementally reveals the song's layered, and roiling, emotions--from seething resentment to wistful reflection ("I hung on every word, until the sound would fall')--as she tries to crawl from the wreckage of a hit-and-run relationship that's left her with no clue as to either party's motives. The chorus, sung assertively in the only  moment when she sounds sure of herself, says it all: "It could have been your smile/It could have been your blonde hair/It could have been your mischievous life/Or the fact you didn't care." This is songwriting of a higher caliber, and a performance artfully colored to enhance the impact she makes in her blunt descriptions of a devastating romantic debacle.

Thus Dragonfly, a moment when art and life are transposed into something rare, mesmerizing and revelatory--a moment when Christine Santelli's heart, to quote Virginia Woolf in To The Lighthouse, "leapt at her and seized her and tortured her."

Christine Santelli's Dragonfly is available at www.cdbaby.com

Press
"That special blend of maturity, musical prowess, and magic. It doesn't come around very often, but she's got it.
She's got it good."
                  nippertown.com

"The diversity of musical styles keep you glued from the first track to the last"
                  Roger Z , More Sugar

"They maybe sitting on a powder keg when the world finds out ..."
               David McGee, Bluegrassspecial.com

"Bonnie Raitt, Sheryl Crow.  This is what panties smell like after an engine rebuild."
               Patty, HybridMagazine.com

"A solid roots rock winner"
Rick Anderson, All music guide

"lush vocals, confident guitar licks, and vibrant storytelling, one tumbles into her world, which is richly hypnotic"
            Diana Schwaeble, Hudson Current

"This performer shines like a diamond polished by years of experience"
           Mr Lucky, cede.ch
   
"Delightfully ferocious"
          Chris Spector, Midwest Records

"The back beat driven "Butterfly and Beatle-esque "Any Better Time" are first class classics in the making."
          David Malachowski, Daily Freeman     

"She smolders" 
              Albany Times
 
 "Her deep, dark voice will take you on a joy ride and not let go. This is one talented lady!"
           GoGirlsMusic.com

Dragonfly review


http://www.ameriblues.com/2012/01/17/christine-santellis-dragonfly-cd-review/


Bluegrassspecial.com
by David McGee
http://thebluegrassspecial.com/archive/May2009/siciliasantellifeaturemay09.php

Midwest Records
by Chris Spector

CHRISTINE SANTELLI/Any Better Time: Think Bonnie Raitt without trying to crack the pop charts, and if you aren't familiar with this
vet road warrior, now you have a capsule head's up on this blues/roots rocker that's been winning them over one at a time. A solid,
strong set that has her right in your face getting the message and the word out, this is blues with a rock edge that's more New York
than Chicago or Delta. Delightfully ferocious and forceful, this is for anyone that wished, say, Marcia Ball had more of a down and
dirty edge to her party vibe. Hot stuff that deserves wider recognition (as it was already said by Downbeat).

cede.ch
by Mr. Lucky
Beautiful new CD by the musician from New York who is well-known in our country since her performances at several festivals including
an appearance in Montreux. Her music is always original, musically versatile and full of energy. It is heartfelt and engaging and always a
pleasure to listen to. Nowadays we use the term ' power-woman' way too frequently but here it is absolutely appropriate. Her live
performances are a special treat of outstanding quality. This performer shines like a diamant polished by years of experience in the US
and other parts of the world. She is a brilliant entertainer, guitarist, vocalist and ... yes, easy on the eyes as well.


Daily Freeman
by David Malachowski

A former native of Clifton Park now living New York City, Christine Santelli has been busy making a name for herself, releasing seven CDs,
winning awards and playing all the right clubs and festivals, even in Europe, where she performed at the famed Montreux Jazz Festival.

Her latest release, "Any Better Time," kicks off with the confidant and reflective, "Good Day For Hangin'," where her sultry growl digs deep i
nto the lyric. Next up, guitarist Arthur Neilson (Shemekia Copeland) stirs up the pot with some fierce licks in "Guilty," one of Santelli's finest
moments as she simply soars in this ode to temptation.

It seems the less is going on, the more Santelli shines, like in the poignant "Ponytails" or the bleak "Down In The Valley," and in the spare
"Calgary," the delicate "Brown Haired Girl" and the hoe-down "On the Farm."

Santelli's voice has always been strong, flexible and able to bring life to any tune, but with this release her songwriting is catching up,
maybe even in the passing lane. The back-beat driven "Butterfly" and Beatle-esque "Any Better Time" are first-class classics in waiting.

The "Jacque Brel-like "For You" is a curious departure, while "Lily's Song" has a country flavor. A sure highpoint is "Ode To Bill," dedicated to
late great guitarist Bill Perry. Santelli just wails here as guitar-slinger Popa Chubby's fine fiery guitar licks take it over the top. (Bill is surely
smiling in guitar heaven).

Santelli really comes into her own with this release, and it couldn't be at any better time.

Visit www.christinesantelli.com or www.myspace.com/christinesantelli

David Malachowski is a guitarist, producer and freelance journalist living in Woodstock. The Freeman seeks CDs by local artists or artists
appearing locally for review. Please send all CDs (please no CD-Rs or demo CDs) to:
Daily Freeman c/o Preview, 79 Hurley Avenue, Kingston, NY 12401.
Vizztone Press Release
CHRISTINE SANTELLI has been a legendary presence in theblues and roots singer-songwriter
underground since the mid-90's. Firmly establishing herself in the NYC music scene that spawned
the likes of Joan Osborne and Jimmy Vivino, she was voted "Blues Artist of the Year (Deserving
Wider Recognition)" in Downbeat Magazine's 46th annual critic's poll. She crossed the Atlantic to
perform triumphant shows in Paris, Madrid and Moscow, which were later released as live recordings.
Internation touring continued with many trips to South Africa, Norway, Germany and Switzerland, and
included an acclaimed performance at the Montreux Jazz Festival. Back in the USA, Christine's 2002
CD, Season of a Child (co-produced by Popa Chubby) garnered further raves. On Any Better Time
(release date 3/17/09), Christine brings her signature style and unmistakeable grit-and-soul vocals
to thirteen brand new original songs, produced by Dave Gross. In an early review,
The Daily Freeman's Dave Malachowski declares, "Santelli really comes into her own with this release,
and it couldn't be at any better time."

for more information, visit: www.christinesantelli.com 
press
No better time for singer Santelli
New release for blues/rock maven
by Diana Schwaeble

 There is perhaps no better time to embrace original music. Christine Santelli's latest album
Any Better Time draws the listener in and doesn't let go.  With her lush vocals, confident guitar
licks, and vibrant storytelling, one tumbles into her world, which is richly hypnotic: a broken down
truck, a darkened bar, and a guitar playin' man are all featured on the musician's seventh album.
The latest CD, released on March 17, contains a baker's dozen of songs that showcase her skill
as a songwriter and a performer.
Fans can hear selections from her latest album when she plays a show with the full band on
Tuesday, April 21 at the Dubliner in Hoboken.

Emotional tapestry

The album, which was produced by Dave Gross and VizzTone Label Group, is a fusion of genres.
It blends simple blues truths and country sensibility mixed with a rock base.
_____________

Her low-pitched vocals are rich with emotion – weaving up the scale and around the drums –
in the aptly titled "Butterfly."
________

Santelli bares her heart on this album with a rewarding result. Fans of the local singer will
recognize in the songs stories that are at once sadly knowing, yet defiantly hopeful.
Her low-pitched vocals are rich with emotion – weaving up the scale and around the drums –
in the aptly titled "Butterfly."
"And when you're flying way up high, I will be near by. And when you're tangled up in the trees,
you know where I'll be. Fly on, fly on, fly on, my little butterfly." "Ode to Bill" is a moving tribute to
a "guitar playin' man" who travels the world playing guitar:  "Made a lot of records soon to be a star.
He was a guitar playin' man – a guitar playin' man." Yet as good as those two songs are, it is perhaps
the title track that listeners will go back to again and again if only to hear the Santelli's lively foot
tapping anthem: "Any Better Time."

Well-known local
Jersey City resident Santelli has made her mark in the blues scene and at many local venues since
the mid-nineties. She personally nurtured and began the popular series of open-mic nights in
Hoboken that feature singer-songwriters and include a pool of talented musicians who participate
regularly. Her series is now at the Dubliner in Hoboken and includes Saturday afternoons, and
nights on Sunday through Tuesday.
 The well-known Popa Chubby, has stopped by the scene and also plays on her latest album.
The album also includes bandmates Matt Mousseau (drums), Tim Tindall (electric bass, upright bass),
Jason Green (guitar, banjo), and musicians Brian Mitchell (Wurlitzer, piano), Arthur Nielson (guitar),
Dave Gross (guitar), Gibb Wharton (pedal steel), and Mazz Swift (violin).

In addition to her large local following, she has gained international renown at shows in Paris,
Madrid, the Montreal Jazz Festival, among others.
Whether or not listeners are familiar with Santelli's music, they should appreciate the new album –
which put simply – soars. She captivates the listener with her gritty passion that shines through
whether she is softly singing a melancholy ballad or passionately engaging in a foot-stamping
rock song.
Christine Santelli will play at the Ear Inn in Manhattan on Wednesday, April 8 and at the Dubliner,
on Tuesday, April 21 at 9:30.No better time for singer Santelli
New release for blues/rock maven

press
FROM THE BILLBOARD WEBSITE: "a solid roots rock winner"

Album Review
On her seventh CD, blues-rocker Christine Santelli shows off her stylistic
versatility with a varied program that includes a couple of excursions into
country, a not to New Orleans, a strange and carnivalesque number, and
plenty of straight-up roots rock. The focus here is on her voice, which is
interesting: at its best, it's a dark, smoky, and richly textured instrument,
while at its worst it can be almost painfully scratchy and raw. Santelli's
songwriting is grittily mature, and on highlight tracks like the sultry "Guilty,"
the softly gorgeous "Brown Haired Girl," and the straightforward blues-rock
of "Sparrow," the vulnerability of the lyrics and her intimate vocal delivery
come together perfectly. Her sidemen are also worth noting; Tim Tindall's
basslines are self-effacing but utterly perfect on "Butterfly," and Brian
Mitchell's barrelhouse piano adds a very nice swamp-boogie element
to the title track. "Calgary" is built on a minimal and lovely arrangement
that showcases Santelli's voice at its roughest, and effect that detracts
from the song in a few places, and the album-closing "On the Farm"
sounds almost like a Hee Haw parody.
But for the most part his album is a solid roots rock winner.
- Rick Anderson, All Music Guide
 
press
 ARTS
Willie Nile, Chistine Santelli rocked the house.
By Drew Dix | Email the author | June 19, 2010
Your photos, videos & PDFs: Add
The gorgeous twilight on June 11 was about to give way to a cool evening,
but still bathed the Elks Club with abundant yellow sunshine.
"I wish the sun would go down; it's killing my rock 'n roll vibe," begged
Chris Dickson, rent Party bandlord and show organizer. The fading
star soon dropped behind South Mountain and the party was on.
Pre-show, headliner Willie Nile weaved among the gathering crowd,
relaxed and talkative and behaving like a regular. He then eagerly
took a seat to hear opening act Christine Santelli. "I didn't exactly
study my instrument…my guitar teacher told me I was the worst
student ever!" admitted Santelli as she immediately set out to
demonstrate the success she's had self-taught. With a solo acoustic
set of pain and perseverance, she delivered a moving string of
powerful, cautionary tales.
"She's the real deal," Nile whispered to me, truly entranced.
"Ode to Bill" was a "paean to guitar playin' man Bill Perry,"
sung with guts and raw emotion—an unabashed warning to
avoid life's traps and pitfalls. "Good Day for a Hangin'" featured
another gushing vocal performance and a fearless exploration into
life's dark recesses:
"I have waited for that Greyhound bus to make that stop-
I have waited for the other shoe to drop…"
Santelli embraced the crowd, mixing a brilliant smile with moody
pouts and soft vocal caresses. Nile's elbow made contact with my
ribs as he moved to take the stage: "Check out that pickin'!" he hissed.
Nile quickly took over the show with his prowling, stomping trio
(Frankie Lee, kick drum & snare; Johnny Pisano, bass), creating
a sound fueled by generous energy and outstanding songwriting
skills that have placed him in the ranks of Hiatt and Springsteen
for decades.
His songs chronicle winding journeys through bad breaks and
hard knocks, and songs of gratitude and appreciation. Alone or
with partners, he triumphs with brass balls optimism, communicating
that we can make it if we try, but I'm gonna kick your ass if you get in our way.
"Sometimes I'm on my way, sometimes there's Hell to pay…"
The trio charged through a cross section of tunes from Nile's records old and new;
from his 1992 release "Hard Times in America" though last year's
"House of Guitars" and his soon to be released album, "The Innocent Ones."
Midway through the set, he got the Elks Club jumping with a thundering cover of
Percy Mayfield's' "Hit the Road, Jack," inciting the obliging crowd to wail along.
Nile called up Christine Santelli to drive the choruses, and brought the house
down as he jumped from stage to chair to amplifier.
He followed with the deeply retrospective ballad "On the Road to Calvary,"
written for close friend, deceased songwriter Jeff Buckley:
I saw St. Christopher walking downtown on main
With Black Madonna fingers holding a flame 
I saw an eagle rising out of the blue 
I heard a car crash it reminded me of you
You carry me across the mighty river
You lift me up above the raging sea
You give me all this love you deliver             
Straight to my back porch on the road to calvary"
Jarring and beautiful was Nile's tribute to 9/11, "Cell Phones Ringing
(in the Pockets of the Dead)," inspired by a headline Nile saw about the
train bombings in Madrid. "Vagabond Moon" featured Pisano's penetrating
bass licks and a driving bridge. All evening, Nile frequently stepped away to
feature his fellow musicians, and added Santelli to his set several times.
Not satisfied, the sold-out Rent Partiers demanded an encore, and Nile
blew 'em out with The Ramones classic "I Wanna Be Sedated," sending
a dizzy, energized crowd into the night.
It was a top-notch Rent Party bill and a fitting close to a successful performance
season at the Elks.
press
http://thebluegrassspecial.com/archive/2010/november10/video-file-november-2010.php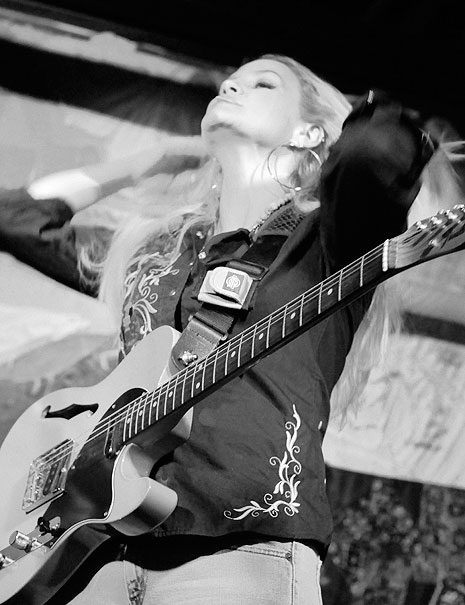 Christine Santelli: 'I consider myself, especially now after doing this,
a writer who's not working in only one genre.' (Photo: Alicia Root)
100 Videos In 100 Days
Christine Santelli's Ambitious Self Promotion Hits The Mark
By David McGee
Christine Santelli is threatening to ascend from the "criminally overlooked" category to being recognized as
one of the finest singer-songwriters around. And she's doing it on her own terms, taking advantage of the
Internet's opportunities for self promotion to showcase a whole mess of new songs she's written since this
past summer, as well as some older ones revisited in different arrangements, all captured in video
performances shot at her home and at venues where she's played.
The idea originated with her husband, Matt Mousseau, who is the drummer in Santelli's fine band and
plays freelance gigs with other groups when his wife is not performing. While he was away at one of
those freelance gigs, Santelli wrote a new song. When she played it for him, Matt's response was to
suggest she "should record a hundred songs in a hundred days," Santelli says. "I was like, alright.
he next morning I thought, I made the commitment, I'm actually going to do this."
She started posting videos on her Facebook page, then uploading them to YouTube, feeling that by
going public with her project, "I could keep myself on track."
Most of the videos were shot in Santelli's home, in what she calls "the Red Room" (where her essential
album Tales From The Red Room was written) but a few were filmed at gigs or during radio interviews.
Of the 100, "six or seven are from years ago that were started but never finished. There's 50 total that
haven't been recorded. They only exist in these videos. Brand spanking new? Thirty-eight, maybe forty."
Apart from the challenge the project posed, Santelli has found this focused songwriting lab paying off in
multiple ways she hadn't anticipated but which have been critical to her ongoing evolution from a blues
artist to an uncategorizable singer-songwriter." I've never sat with an instrument as much as I did in the
last three months," she said. "It's made me such a better guitar player, and more in tune with songwriting,
a better songwriter just from doing this. I've also noticed I listen to songs differently—I listen to parts.
"I consider myself, especially now after doing this, a writer who's not working in only one genre. Now I
really need to spend some time with the songs and learn them, and that's always been a struggle for me.
That's the hard part; it's not fun to do that. It's homework, you know."
Christine Santelli was profiled in the June 2009 issue of TheBluegrassSpecial.com.
Visit her website for news and tour dates.
And starting next month, check the Contents page of each issue of TheBluegrassSpecial.com for the
exclusive Christine Santelli Video Of The Month.